My family lives on Pepper Drive.
Pepper Drive is a unique place where God's Story is lived out in all sorts of beautifully bizarre, simple, common, and unconventional ways.  Pepper Drive is one of the unique soils in which my family is formed.
I can remember our first visit to Pepper Drive.  Two friends had recently purchased a home on the street and had invited Jaci and I to a house-warming party. A freeway to an exit to some side streets and up a hill we went turning at last from Garden onto Pepper.
"Just add Cucumber Circle, Tomato Blvd., and Crouton Court and these street names would make a great salad." I thought out loud as we veered toward the curb in front of our friends' home.
Over and over we made the journey to Pepper Drive.  The frequency with which we returned meant that we started becoming friends with our friends' neighbors…Pepper Drive started to feel like home.  One year later, Pepper Drive officially became our neighborhood.
Pepper Drive was hit especially hard during the real estate crisis.  Like so many neighborhoods across the country, it seemed as though half of our street was vacant.  Slowly, contractors bought the foreclosed homes, renovated them, and prepared to rent them.
Our dream has always been to live in close proximity with friends.  We've often considered what it would be like to share resources and meals…what it would be like to intentionally share life with a few others.  The dream became reality as, over time, we crossed the thresholds of the homes being renovated into friendships with the contractors.  By the time a given house was ready to rent, Jaci would personally hand deliver the house to some of our friends and our friends to the contractors.  In no time, there were seven homes filled with our friends…The Pepper Drive Community was born.
With 12-15 dynamic people (and a few great dogs) on Pepper, we began to explore some practices with each other.  We figured that that many like-minded people in one neighborhood should cause the landscape to shift.  Tangible differences should become palpable as, rather than focusing exclusively on being good neighbors to each other, we focus on being good neighbors to our entire neighborhood.
Three simple practices have emerged that have been helpful:
1.  The stoop sit.  Rather than sitting in our back or side yards, we are choosing to sit on our front stoop.  As a result, we find ourselves far more available and present to our neighbors who are returning from work, going on runs/walks, doing lawn work, washing cars, and/or playing in the street.  The stoop sit is creating frequent touch points with our neighbors that last anywhere from 5 minutes to an hour and, at times, end up around the table.
2.  The shared table.  Every Monday night, the Pepper Drive Community gathers around one of seven tables to eat, reconnect, tell stories and, from time to time, conspire tangible practices of love for the larger Pepper Drive.  Periodically we find ourselves around the tables of other friends/neighbors and them around ours.
3.  Shared Resources.  Whether its vehicles, lawn equipment, food, or camping gear, our stuff is becoming "our" stuff.  Eventually, we'd like to see this practice free our finances such that we can give it away in creative ways.
What I love most about Pepper Drive, though, is the frequency with which we find ourselves in the homes of others.
One night, as I was watching hockey in the living room of my next-door neighbors, I watched Jaci and Ava walk across the street and enter into the home of a different neighbor.  30 minutes passed and I hadn't seen them return.  Knowing that our dinner was in the oven, I ran over to our house, switched the food out, and ran back to my friend's place for more hockey.  As I walked in, I commented, "Sheesh…Jaci, Ava, and I are in everyone else's home but our own!"
Louisa, who has lived on Pepper far longer than the rest of us, said, "That's so cool."  She continued, "Ever since you all moved onto Pepper, this neighborhood has gone vintage."
"What do you mean?" I asked.
"This is becoming a neighborhood like it used to be…people becoming friends, friends becoming neighbors, neighbors becoming a family.  As a matter of fact, I get excited when I turn onto Pepper because I love who I live among."
I was reminded of this conversation as Ava and I sat on our stoop this past Monday.  Our artist friend and neighbor, Marcos, walked by with his two Chihuahuas and greeted us both by name.  He's a brand new daddy of a beautiful baby girl and is getting some fresh exposure because of his unique style of art.  I inquired about both worlds (daddy and artist) and he was thrilled to talk about each.
As we chatted, Ava, was eating the two-stick kind of red Popsicle.  She had already broken the Popsicle in two and, therefore, had two leaking red Popsicles, one in each hand.  As Marcos was preparing to move on, Ava reached out her right hand and offered one of her half-eaten, melting Popsicles to him.
"Thanks so much, Ava!" Marcos said with a wink at me.  "Maybe next time."
"Okay!" Ava said nonchalantly.
"You're a good a neighbor, Ava." He responded as he walked away.
"Thanks!" Ava yelled.
My heart swelled a bit.  I was proud of my little girl who had red stains streaking down her arms and well past her elbows.
After some time, as she continued to work on her Popsicle, she calmly asked, "What's a neighbor?"
"A neighbor is someone who offers her favorite flavored Popsicle to someone else." I said.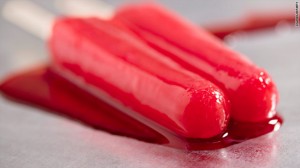 "I'm a neighbor?" she asked.
"Sure are!" I beamed.
In silence, she worked on her Popsicle a bit more.
"I'm a neighbor." she said to herself.
I looked over at her and she looked back.  "I'm a neighbor!" she laughed.