In our most recent webinar on Syrian refugees, we learned about the crisis and how the US Church must respond.
International practitioners Dr. Curt Rhodes (Questscope) and Kiri Harper (World Relief) expanded our understanding of both the historical development and current human reality of this crisis.
Domestic and international leaders (listed below) offered practical insight into how everyday US American Christians can respond in local ways that ripple positively throughout the globe.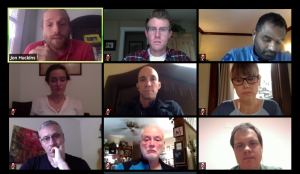 HERE is the link for a full recording of the webinar. Please feel free to use this link with your teams and church and/or to share it within your spheres of influence.
Finally, as promised, here are the leaders, organizations, and practical ideas for engagement offered in the webinar:Dr. Curt Rhodes (@Questscope) of Questscope exposed the reality of hunger and the need for us to invest in food for the hungry.  Click HERE to meet the desperate need for food.Kiri Harper of World Relief Germany shed light on the on-the-ground response teams of World Relief and how they are accompanying the Syrian Church as they meet the critical needs of refugees.  Click HERE to invest in the sustainable reach of the Syrian Church.

Vickie Reddy (@vickiereddy) of #WeWelcomeRefugees encouraged us toward radical hospitality in our own contexts by reminding us that we will only be able to change the fabric of our societies when we fully welcome refugees into our communities.  How might your church become a sanctuary space for refugees?  What if you were to start with just one family?

Jeremy Courtney (@JCourt) of Preemptive Love Coalition pointed to the power of micro-finance and small business development and invited us to invest in the future of women impacted by ISIS.  Click HERE to invest in the future female entrepreneurs in war-torn areas.

Jer Swigart (@jerswigart) of The Global Immersion Project invited us to move beyond one-off activism and be formed into Everyday Peacemakers who give their whole lives for the flourishing of refugees domestically and internationally.
Click HERE to join Global Immersion's Immigrants' Journey Learning Lab (November 13-15, 2015). Use promo code: #refugeecrisis for $100 discount if you register by October 1st.
Click HERE to join Global Immersion's Israeli/Palestinian Conflict Learning Lab (May 15-21, 2016). Use promo code: #refugeecrisis for $200 discount if you register by November 1st.
Mark Reddy (@markreddy1) of The Justice Conference spoke to the power of domestic and international church-to-church collaboration and invited us to join the #wewelcomerefugees movement to learn of opportunities to link arms.  Click HERE to enter the movement.
Stephan Bauman (@stephanjbauman) of World Relief: Global offered perspective on the power of political advocacy and pushed us to advocate with the US government to accept more refugees in 2016.  Click HERE to advocate.
Matthew Soerens (@MatthewSoerens) of World Relief: Domestic highlighted the need for domestic care for refugees and implored us to connect with a local refugee resettlement organization such that a refugee family becomes a part of your own.  Click HERE for a complete interactive map of domestic resettlement agencies.
Additional Resources:
Our friends at Warzone Initiatives publish an excellent weekly newsletter that synthesizes the best resources on current global conflicts. Click HERE for the latest issue and to subscribe to future issues.
HERE is a briefing on the human reality of the refugee crisis written and provided by Dr. Curt Rhodes. Please feel free to use and share this tool with your team, church, and sphere of influence.