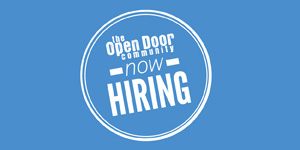 Who We Are:  The Open Door Community is a creative, multi-generational expression of the Church in San Francisco's East Bay. We are an experiential, risk-taking, failure-embracing, grace-extending family of sojourners learning to walk in the Way of Jesus for the good of the world.  Rather than forming moral intellectuals, we seek to cultivate followers of Jesus who are Rooted in Christ, Woven together as family, Extending sacrificial love, and Cultivating others to be and do the same.  Our cultivation occurs in two primary expressions: Gatherings & Circles.
Our weekly Worship Gatherings are the place where our entire community convenes to worship God, to grow in our experience of our belonging and our awareness of our belovedness, and to focus on our shared mission. Our Circles are smaller communities of people learning to follow Jesus on mission within the spaces they live, work, & play.  Through Gatherings and Circles, we are becoming a worshiping family that's joining God in His mission of weaving heaven and earth back together again in the East Bay & beyond.
Who We Are Looking For: We are seeking a Pastor of Community Formation whose life, leadership, and mission are oriented around Jesus.  We are looking for someone who has the heart of a pastor, the mind of a leader, the impulse of a mobilizer, the imagination of an innovator, and the experience of a collaborator.  This person will be a creative, strategic team-player and infrastructure builder whose primary passion is to help individuals and communities be cultivated into the image of Jesus by worshipping God, belonging with one another, and living out their identity as God's beloved.
What You'll Do: As the Pastor of Community Formation, you will contribute to Open Door's mission by leading our Worship Leader and volunteer Gatherings Team in re-imagining, designing, implementing, and evaluating our Worship Gatherings.  As the primary visionary of our Gatherings you will help to cultivate Open Door's Rootedness (belonging to God) and Woven-ness (belonging with one another).  Alongside our Pastor of Mission & Pastor of Worship, you will work to fuse Gatherings and Circles such that Open Door faithfully & holistically lives out its mission of cultivating followers of Jesus who are Rooted, Woven, Extending, & Cultivating.
Who You'll Share Ministry Alongside Of: You will lead our Worship Leader and volunteer Gatherings Team, collaborate with and report to our Directional Leader, and participate on our Elder Board.
Qualifications:
Our minimum educational requirement is a Bachelor's Degree. A Master's Degree or equivalent study in Theology, Ministry, or Leadership is preferred.
At least four years of proven experience in pastoral leadership, leadership development & mobilization, collaborative leadership, and program design & implementation.
This is a full-time, salaried position.
Additional Resources:
If you're interested, please email your resume or CV and cover letter to Kate Schwass.