A short portion of my Saturday evening was spent on a BART train.
Having just gotten disconnected from a phone conversation with a friend, I stared out the window into the inky darkness created by the tunnel we had just entered.  The life that was occurring in my BART car immediately flashed up as a reflection on the window.  Lost in thought, I didn't see any of it until I heard:

"I ain't yo' DAMN girlfriend!"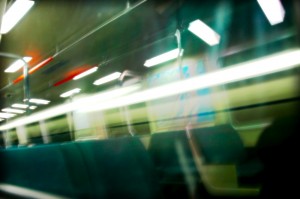 I was already looking at her reflection…but now I saw her.  She was a beautiful, young African American woman sitting next to an African American young man who was obviously embarrassed by both her words and volume.  Pain was threaded in her eyes and was etched across her face.  She sat rigidly next to someone who, I could only speculate, had hurt her.
As the volume of their conversation subsided, I looked deeper into the window whose reflection exposed the landscape of my place.
He wore tight gray pants, a black tank-top, flesh-colored dancing flats, and a black bra.  He held his bike, as did his two female friends.  A yellow button pinned to his pants read, "Women's Action."
It was obvious that he was undergoing hormone treatment as his breasts were abnormally large for such a tall, thin young man.  It was equally as obvious that he was not yet comfortable with the new story that he was trying to live out.
The BART doors opened.  It was his stop.  His friends gave him quick hugs, promised to call the next time they went for a bike ride and, as the doors closed, said, "Bye Susie!"
She was a Latin mother of three small children, one of which was asleep in a stroller.  The two older children, a boy and a girl, were thin…frail thin.  They sat quietly next to her, heads bobbing to the sporadic jostling of the train.  Her eyes exposed uncertainty, fear, and anxiety.  Every time the the doors opened, she held her two children as close as she could while suspiciously eying every new person entering the train.  At one stop, a business man on his phone hurried off but not before slapping the sleeping baby with his computer bag.  The child screamed in pain…the business man left without a glance.
She was dressed in jeans, a white tank-top, maroon flannel button-down shirt, and men's brown, leather dress shoes.  She wore her hair short and styled in messy faux-hawk.  Three piercings adorned her facial features which gave way to a tatoo'd neck line.  When she spoke, she strained to deepen its sound.
He was dressed in tight women's blue jeans, a silver belt, and a white, body-fitting blouse.  His fingernails were long and painted, his hair hung half-way down his back, and the color of his lipstick matched the maroon flannel of his friend.
She was becoming he and he was becoming she.  They held hands, occasionally kissed, and spoke passionately about the evening that she (he) had planned for him (her).
A seemingly insignificant 30 minute BART ride turned into a moment of formation.  In those 30 minutes, I saw the humanity of my place reflected in a BART window.  I was reminded of the pain, confusion, and complexity of those who call the Bay Area home.  I was reminded of a Jesus who went out of his way to move toward the people in the reflection in front of me.  I was reminded of a God who didn't just gaze into a reflection on a window, but Who entered into the pain, confusion, and complexity of others. I was reminded that, as a follower if Jesus, my vocation is to move toward the people in my train.
As the train approached my stop, I looked into the reflection one last time.  My eyes were drawn to the momma with her kids.  Her eyes were closed as she held her sleeping baby.  A sudden jolt of the train shifted her daughter's eyes from the floor to the window I was looking into.
In the reflection, we made eye contact.
I smiled at her and waved.
She smiled and waved back.
In that moment, I moved out of the reflection and into real life.