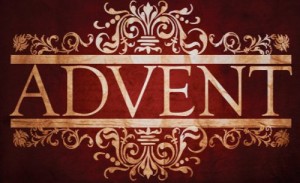 Advent has nearly come and gone and, unless you find yourself in a Christian Church with a liturgical bent, it's possible that you didn't even know it.  Most of us refer to this season of time sandwiched between Thanksgiving and Christmas as "the holidays" and will fill it with beautiful things: family traditions, memories, and meals.  For those of us who go to church, we tend to spend Advent remembering the birth of Jesus in the form of stories, kids plays, and songs.  While remembering this sacred moment is good, I wonder if Advent needs to be less about remembrance and more about declaration.
But what are we declaring during the Advent Season?
Consider Advent within the Meta-Narrative of God.  In the beginning, God spoke existence into being, not because God needed anything, but because God wanted to. Once the scene was set, God entered into the created order and formed the first human being out of dirt, He exhaled His breath into the dirt-man, and the dirt-man woke up.  When he woke up, he woke up into a Story that was already in process…a Story that wasn't about him. And then he exhaled the exhale of God and, in so doing, recognized that everything that he would ever need or become would come from the hand of the One who had just exhaled into him.
The first human got lonely so God put him back to sleep, formed woman, and woke him up again.  Then the community of God and the community of humanity danced to the rhythm of God's heartbeat.  It was good…it was the way it was supposed to be.  This was Peace.
But soon, we grew discontent with our place.  We didn't like being a participant in the Divine Narrative…we wanted to be Author and Main Character.  So, we drafted our own fantasy, convinced ourselves that our fantasy was better than God's Unfolding Story, and chased it. The moment we did, peace was interrupted: the relationships were severed between us & God, us & ourselves, us & each other, and us & creation.
Simultaneously, grace emerged.  God saw the severed relationship but it didn't cause Him to end the Story.  Instead, God immersed into the Story and drew near an unreconciled people.  While there, He contended for their flourishing by covering their shame, and immediately committed to the full restoration of relationship.
God made a blood promise to Abraham: I'm coming and when I do, I will spend my life restoring Peace.
The journey toward Peace began as an immigrant journey. Abraham's family migrated from Ur to Canaan, and then a portion of his family migrated from Canaan to Egypt (where they were enslaved in the brick kilns for 430 years), from Egypt through the wilderness back to Canaan (renamed Israel), and, because they continued to reject their vocation as image-bearers of God, lights unto the world, and global peacemakers, they migrated from Israel to Babylon as exiles.
It was from Babylonian exile that the lyrics for some of our cherished Christmas Carols emerged:
O Come, Desire of nations, bind
in one the hearts of all mankind;
bid every strife and quarrel cease
and fill the world with heaven's peace.
Rejoice! Rejoice! Emmanuel, 
shall come to thee o Israel!
1000 years later, after a prolonged silence, God spoke again to a people who were once immigrants, slaves, and exiles, and were now occupied.
He spoke to the husband/priest of a barren couple: "Your son will prepare the way for Emmanuel."
He spoke to a virgin teenage girl: "God's promise to Abraham is coming true in your womb."
He spoke to an impoverished carpenter: "Marry the bearer of Emmanuel."
He spoke to shepherds through angels: "God has made good on His promise! God is here in baby human form."
If God was here, then God could bleed.
If God could bleed, then God could die.
God truly was making good on His promise to Abraham.
Then the angels celebrated with a song of Peace.
As our Story continued, Jesus…Emmanuel…God with Us…demonstrated for us what it meant to be fully human: at peace with God, self, others, and creation.  They nailed Him to a Cross for it and buried Him in a rock.  Three days later, neither death, nor rock could contain Jesus.  He rose again, found His community and said, "Peace be with you."
The life, death, and resurrection of Jesus fully restored the severed relationship between God & humanity.  The promised Peace was reality.
 
Therefore, since we live on this side of the Cross and the Empty Grave, we understand the Manger (Advent) as a redemptive moment.  The Manger, when viewed thru the lenses of the Cross & the Empty Grave is God's declaration: "I'm here to spend my life on peace!"
So what do we declare with our words & lives during Advent?
God is faithful: God did what He said He was going to do.
God is for us: God put on flesh, immersed into our conflicted reality, and contended for our flourishing.
God is unconventional: God did what He said He was going to do in a way unlike anyone could have imagined.
God is a peacemaker: God spent his life to restore severed relationships.  There's Peace between us!
Peace is our vocation: God commissioned us to go and spend our lives on the flourishing of others.  There's Peace to Wage!
Questions in search of Answers:
How can you integrate the theme of "Peace" into your family's understanding of Advent?
How can Advent be a time of practical peacemaking for you and your family?
How can you spend yourself generously on the flourishing of others this Advent?