She stood at the wall and peered into the eyes of her global sister.  Through the tiny square holes that had been created by interlocked rebar, they looked at each other with both curiosity and that unfiltered desire for connection that kids posses.
Her feet were firmly planted on the State-side half of "Friendship Circle" while the feet of her peer perched on the wall on the Mexican side.
Both of them, girls with big hearts and endless dreams, were separated by a human-engineered structure designed to interrupt the potential of their co-creating friendship.
For the first time in her young life, Ava was without words.  She had stumbled into something that was so broken and so much bigger than she was.  She had encountered her smallness and she was desperate.
With a breaking heart she looked up at me, still without words.  Her eyes pleaded with me to do something…anything.
In preparation for el Camino del Immigrante, Ava and I had talked in depth about why boys and girls around the world are forced to walk away from their homes.  We talked about power and fear and greed and ignorance and racism.  We talked about wealth and poverty and war and politics.  We talked about empathy and hope and generosity and courage.  We talked about neighbor love and enemy love.  We talked about what it means to be Everyday Peacemakers and how this cross-shaped way of life dismantles the walls that separate people.
As I looked into her eyes in that moment, I wondered if those big, swirling conversations were beginning to connect.  I wondered if the ideas of boundless hospitality and borderless generosity and taken root and were beginning to grow in her the kind of compassion that fuels merciful action.  I wondered if the experience of standing at that wall with the feelings of desire and helplessness were reinforcing for her that this is not the way it's supposed to be. I hoped and prayed that this moment of intentional displacement was inspiring her to spend her life joining God in eliminating the walls that divide people.
I didn't have to wonder long as I saw the desperation in her eyes turn to determination. Alongside her friend Ruby and with a shovel in her back pocket, Ava turned back to the little girl on the other side of the wall.  She extended her finger through the rebar and her Mexican sister did the same.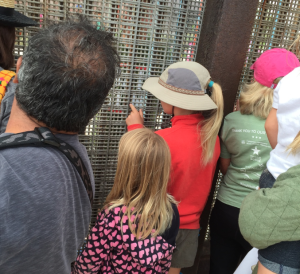 The human connection helped Ava find her words.
"Don't worry!" she said, "We're here with our daddies to help stop this nonsense."