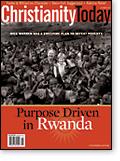 Below is the response of a friend of mine named Tim who is the director of a mission organization that equips and empowers Latin Americans to love and serve Muslims into the Kingdom. The response was provoked from Christianity Today's picture of (possibly digitally enhanced) Rick and Kay Warren amongst a sea of Rhwandan children. The caption of the picture says the following: "Rick Warren has a sweeping plan to defeat poverty."
Tim writes…
A picture is worth a thousand words. The thousand words inside (CT Oct 2005) about Rick Warren's PEACE plan proclaimed a "tsunami-like paradigm change" in missions.
But the paradigm behind the "thousand word picture" outside the magazine doesn't seem very different from the one that guided 19th Century European missionaries. They thought they had what it would take to design and deliver a "Christian solution" to Africa's problems (it turned out to be more "Western" than "Christian").
With the light on the cover focused on a white man and his wife, we are offered hope that 21st Century American Christians now have what it takes. We are asked to believe that we can use our leadership to fix Africa's poverty by being rich enough, influential enough and by sharing our technology.
Whether the paradigm will work the second time around, I don't know. A truly changed paradigm might propose that true Christian hope for the West, indeed, for the world, depends more on the obedient initiatives of African Christians living at the margins of world influence than on globalizing our unique brand of California Christianity (I include myself, 4th generation Californian).
Medieval Northern Europe was shaped more by God's work among the poor and "pagan" Irish living at the margins of political and ecclesiastical power than by the theological and political influence of wealthy Roman Christianity.
In Africa, God is already shaping and forming a new church, teaching His people there to love the unlovely, raising up the next generation of our world's Christian leaders while making Himself known to millions in the midst of war, tribalism, suffering and poverty.
Let us pray the fruit of God's work there won't be drowned in a Tsunami of our own making!
Timothy Halls
[email protected]
www.pminternacional.org